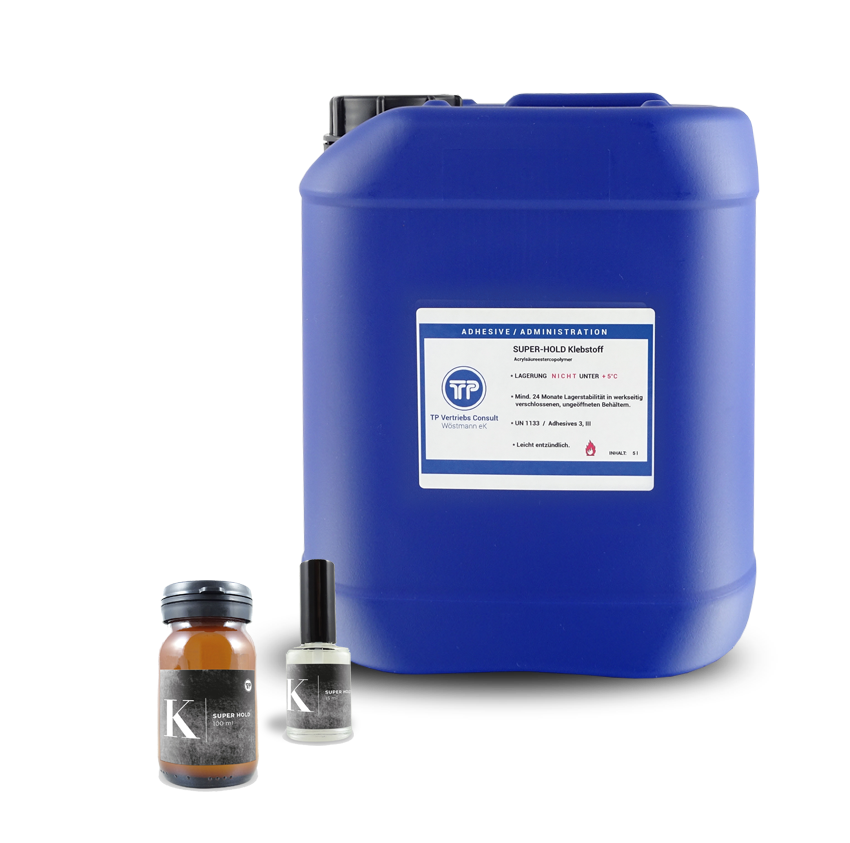 Bonding
Super Hold
Bonding: Super Hold (acrylic acid ester copolymer solution)
The adhesive "Super Hold" is particularly suitable for the long term, permanent bonding of hairpieces with full-foil suits on the skin.
Usage: First, the cleaning and degreasing of the adhering skin area and the hair piece montur. For this we recommend the use of the TP-REMOVER / CLEANER. Then you can adjust the Super Hold on the sticking skin area and the adhering foil area with a brush. If the adhesive on the skin and on the monture foil is dry, the hairpiece is rolled up from the back to the head bubble-free and thereby pressed firmly, especially the front edges of the hair piece. Hair washing should be done if possible the day after the application.
Removal of the adhesive from the garment and skin:
The hair front piece is to be gently raised and slowly pulled backwards at an acute angle. The adhesive on the mount and on the skin is recommended to wet well with TP-REMOVER / CLEANER and allow to take effect for 1-2 minutes. The glue softens and allows easy and complete removal.
The Super Hold is available in the following dimensions:
| | |
| --- | --- |
| Super Hold | Glass bottle 15 ml with integrated dosing brush |
| Super Hold | Glass jar 100 ml without individual packaging |
| Super Hold, Cabinet | 5 L of adhesive in special container |