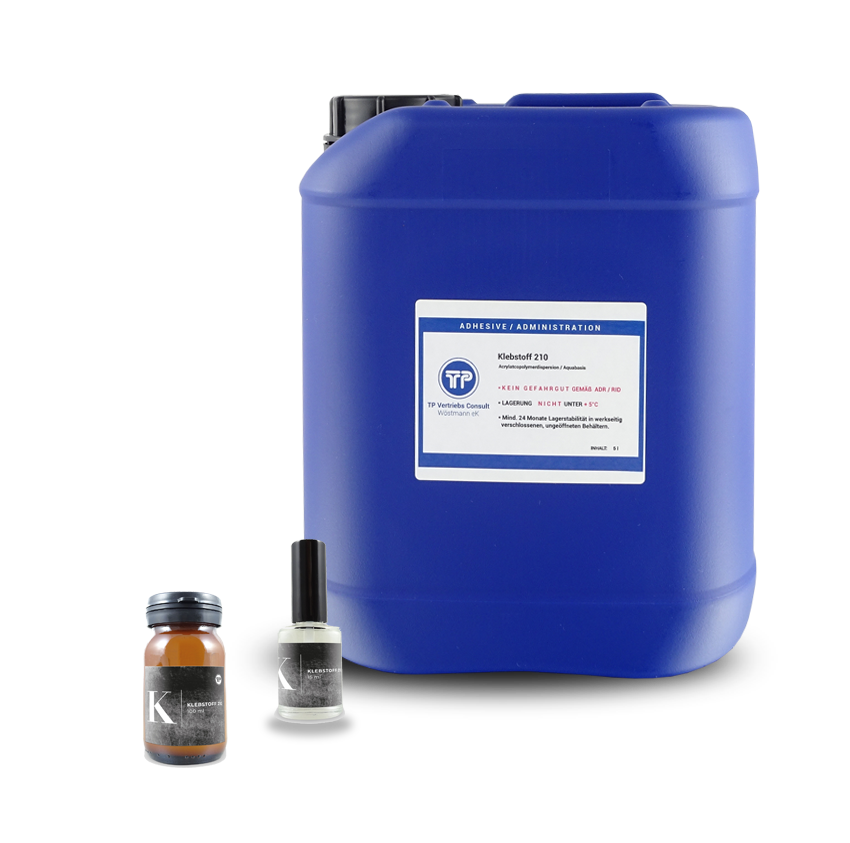 Bonding: Adhsive 210 (acrylate copolymer dispersion / aqua base)
The skin-friendly adhesive 210 is suitable for long term, permanent bonding of hairpieces with full-foil suits on the skin. The white adhesive becomes transparent after drying and thus achieves its best, permanent adhesive power. The dry adhesive layer is permeable to water vapor and thus increases the wearing comfort of the hair piece.
Usage: First, the cleaning and degreasing of the adhered skin area and the hair piece-Montur. For this we recommend the use of the TP-REMOVER / CLEANER. Subsequently, the adhesive 210 can be applied thinly and evenly to the area of the skin to be covered and the area of the film to be covered in the hairpiece with a brush. Wait until the white adhesive has become transparent. The waiting / drying time can be shortened with a cold air dryer. The use of hot air is not recommended, as otherwise a deformation or even damage to the hair on the hairpiece may occur. As soon as the adhesive 210 on the skin and on the mounting foil is transparent, the hairpiece is rolled up without bubbles from the front to the back of the head while being pressed firmly, in particular the front edges of the hairpiece. Hair washing should be done only one day after the application.
Removal of adhesive 210 from the garment and skin:
The hair front  is to be gently raised and slowly pulled backwards at an acute angle. The adhesive on the mount and on the skin is recommended to wet well with TP-REMOVER / CLEANER and allow to take effect for 1-2 minutes. The glue softens and allows easy and complete removal.
The adhesive 210 is available in the following dimensions:
| | |
| --- | --- |
| Adhesive 210 | Glass bottle 15 ml with integrated dosing brush |
| Adhesive 210 | Glass pot 100 ml without package |
| Adhesive 210, cabinet | 5 l adhesive in special container |